It is rare that I come to you with anything all that important, but here goes.
Friends of Otis & James, Perry and Melissa Olson, were blessed with the arrival of their precious daughter, Natalie Beatrice on October 22, 2006.
Born at just 29 weeks, and weighing only 2 lbs 4 ozs, Natalie has been in the NICU since her arrival. After spending almost the first 3 weeks of her life at Trinity Hospital in Minot, she is now at the University of Minnesota Children's Hospital, Fairview.
Natalie is proving that she is a fighter, determined to come out on top!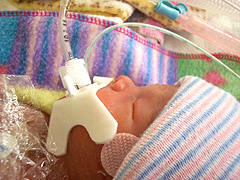 But, this sweet little angel still has a long road ahead of her, and the medical expenses for her care are mounting. So, a special fund has been set up to help Perry & Melissa with those expenses. If you would like to help the Olson's out in their time of need, we invite you to visit, or to contact:
Prairie Federal Credit Union
The Natalie Olson Benefit Fund
c/o Perry and Melissa Olson
1430 South Broadway
Minot, ND 58701
701-837-5353
We came to know Melissa & Perry through one of our wedding clients, Brittany & Steve Miller. Steve is the brother of Melissa, and we loved Brittany so much we hired her on as our assistant during this past, and future summers! We love Steve too, but not enough to keep around the office. We thank you for taking a little time for this, and you may now go about your regular blogging.
OneLove
MuchLove
o&j