And this epic trek that I like to think of as being an epic trek of all things Otis & James, FunCenter, and sweetlysweet continues with a tale of a young lady that just happened to call herself Joanna, and her crazyadventures in the land of Otis & James. Alright. Is that really going to be the start of this post? Like, did I really use the term 'epic trek' in describing something that occured in FunCenter? And, since when is the term 'tale of a young lady' anything that anybody really wants to read? OK. Well, with those questions in your mind, let us now move to the second paragraph to see just where this 'epic trek' is going to take us.
Now, even though I did say that there were 'crazyadventures', which was actually supposed to be the title of a TLC album (or CD for all you kidz out there), but it was never released, due to the fact that the songs were so good, they feared that people would actually explode if they were to hear them, but enough about TLC), I assure you – my faithful of the blog – that at no time was anybody in any form of danger, other than Otis, but that's because the day that Joanna stopped by was also the day that he practiced is flaming-knife-throwing while blindfolded routine, while on a ladder, on the roof, but Joanna was nowhere near this spectalce spectacles.
Instead, she was in the FunCenter for Fun, working hard on getting some crazycoool (what is up with me and TLC?) seniorsnaps! The times were wonderful, and the outcome was…well…let's just say that she was totally and completely awesome to work with, and the outcome was totally and completely awesome as well!
MuchLove & ManyThanks to Joanna for stopping by for a visit, and to all of my goodly peeps in the land of blog on this pleasant evening, I wish you all well, and offer you all up a big ol' plate of – Enjoy!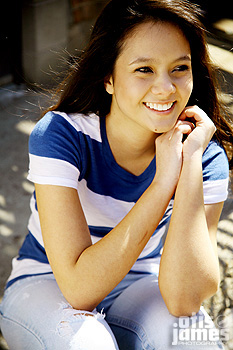 All Content ©2007 Otis & James Photography