Can you believe it's already the eleventh volume of the Great American Blog Off? I mean, things are really flying by. Things are flying by faster than a homerun in baseball, which is also great and American. So, since things are flying so fast, it's time to pause and thoroughly enjoy this eleventh post. It'll be quite simple, let's go into the history books and uncover other "important things numbered with eleven." (We're not actually going into the history books– it's just a figure of speech).
All right, first there were… hmm… not as easy as I thought this would be. Wait! First there were the eleven pipers piping in the Twelve Days of Christmas. I loved that song, especially "five golden rings," but that's beside the point. Secondly, there was Apollo 11. If memory serves me right, that was the first crew to land on the moon. Thirdly, Power Rangers Season 11 was Ninja Storm. If anyone thinks that isn't important in history, you are sadly mistaken. That should sum up everything in history that had 11 numbered things to do with it. However, everyone knows the common rating system of "one to ten," one being the worst, ten being the best. Example #1, one time someone asked me "how much do you like Team James?" Everyone knows that me and the old man are on Team Otis, so of course I said, "I think they are about a two." It sounds harsh, but everyone knows Team Otis is about a bajillion times better (bajillion is somewhere after a quadrillion).
Some people though, go above and beyond the scale. Example #2, we asked ourselves "how much do we enjoy the Family Bonebrake?" Well, that number can not be found between the numbers one and ten, therefore we go beyond the scale and say 11! The Bonebrakes were a hoot and a holler to work with (once again, not quite sure what that means). I've only had good experiences with Bonebrakes. For those of you that know my past and have visited BlogLand previously, you will know that before I worked here in the World of Blog, I worked in the World of Videos [WoV]. The WoV was reigned over by a lovely King and Queen by the name of Bonebrake, and I was lucky enough to serve in their kingdom for quite sometime. See? Only good experiences. Without further ado, here they are — the Family Bonebrake!
Enjoy!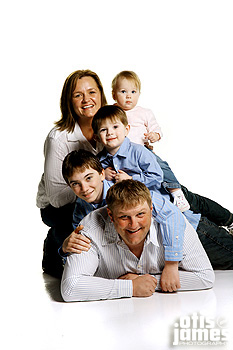 All Content ©2007 Otis & James Photography