Our journey through time and space continues with a visit from a group of people that are called The Family Welstad!  Now, you may be sitting there in your blog houses with your windows open, letting the cool late spring breeze ease your minds (poetry here folks, poetry), wondering why it is that a family so lovely as this would grace the FunCenter with its' presence, and I'm here to tell you that it was for some superfantical wonderfulmagical family pics!
You see, they could have gone to another studio and had something like this done: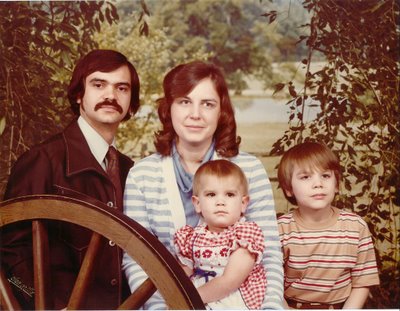 But they didn't.  They came to the FunCenter instead, and we would like to take the next ten to fifteen words expressing our thanks for leaving the wagon wheel behind (people still ask us whey we don't have a bunch of props), and for giving us some of their valuable time instead.
MuchLove & ManyThanks to this wonderful family, and to my good Peeps of Blog listening to their relaxing music, with the window open, drinking their tea – Enjoy!
All Content (With The Exception of Awful Old Photo) ©2008 Otis & James Photography