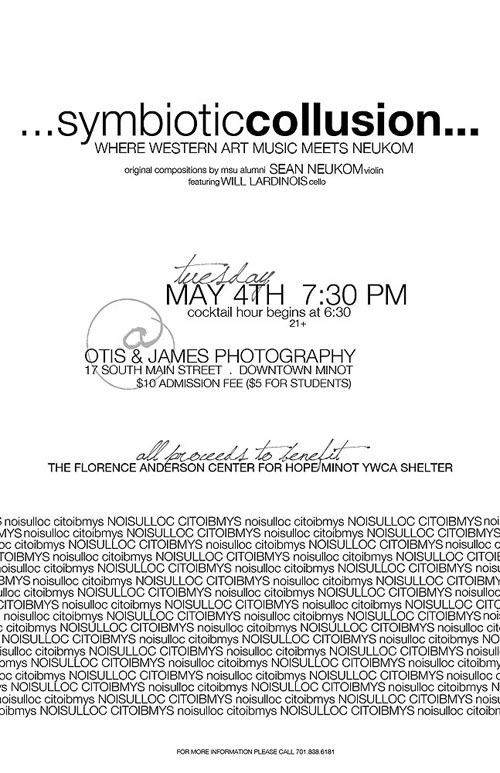 On Tuesday, May 4th, Otis & James Photography will be presenting live and original music from violinist Sean Neukom and featuring Will Lardinois, cello.
The admission fee for this event is $10 ($5 with a student ID), and is open to all ages. All proceeds will be donated to the Florence Anderson Center for Hope Minot YWCA Shelter. There are no advance ticket sales – all admission will be paid at the door.
At 6:30, we will start a cash bar cocktail hour (must be 21+), and music will begin at 7:30. There will be no admittance to the event after the music begins, so please don't be late!
Sean Neukom, born and raised in Devils Lake, North Dakota, began violin studies at age 3 under direction from his father. Mr. Neukom is an alumni of Minot State University from where he received his Bachelor's degree in music performance under the tutelage of Dr. Jon Rumney.
Mr. Neukom completed his Master's in Music violin performance degree at the Cleveland Institute of Music under David Updegraff. As a chamber musician, Mr. Neukom has been coached by the Cavani Quartet, the Fry Street Quartet, the Luminous Trio, members of the Cleveland Quartet, the Ying quartet, and members of the Cleveland Orchestra.
As an orchestral musician, Mr. Neukom has played with the Nashville Symphony Orchestra, the Mansfield Symphony, the Southern Sinfonia, the Bismarck-Mandan Symphony, and the Minot Symphony Orchestra.
An avid performer and teacher, Mr. Neukom works to bring not only new music to the concert stage, but also innovative methods in their presentation. Mr. Neukom's recitals frequently fuse mixed media and extemporaneous discussion concerning elements of classical music.
Also a composer, Mr. Neukom seeks to reignite the composer/performer duality and his music has been commissioned by organizations such as the Minot State University string ensemble and the New York Summer Music Festival as well as featured on the Western Art Music radio show in New Zealand.
Please join us for this wonderful event – it will be a lovely evening for one & all!