We were finally able to meet both Matt & Kim today, and it happened to be on their Wedding Day. Since we had our equipment with us, we thought we'd help out.
As it sometimes goes with long-distance weddings, we weren't able to meet both the Bride & Groom together until the event itself, but due to the incredible amount of hospitality that was afforded us, we were made to feel like family. We were lucky because the sister of Matt is a good friend to Otis & James – Ali (click here for proof).
The wedding was gorgeous, we were happy to be a part of it – congratulations to the new Husband & Wife!
Here's some pixels from the day – Enjoy!
:: click images for larger ::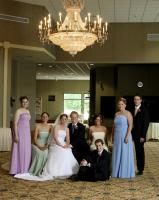 All Images ©2005 Otis & James Photography