This morning we arose to spend a little more time with our friend Gabe (you may remember him from this post)! We began with some hearty cold weather, but the sun was out so at least we had that. Well…the sun was out for about the first 15 minutes of the shoot, and after that it began to snow.
Ahh yes, our old friend snow. We didn't let it get us down. We soldiered on, determined to take this snow and make it into photographic gold (again, a really cheesy sentence.) Gabe was awesome – perhaps compeletely frozen at times, but he knew it was for the greater cause – the cause of Senior Portraits. It was with this in the back of his head that allowed him to tear it up in the fashion in which he did.
Even though I do not really know what that last sentence means, I want to invite you to stop back later this winter for a couple of more from Gabe. For now, we offer these to tide you over – Enjoy!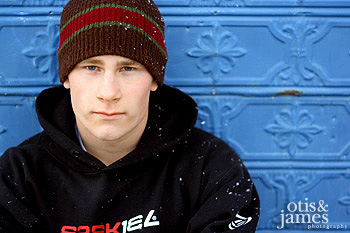 All Images ©2005 Otis & James Photography