We had the great pleasure of working with McKinzey this evening! I'll tell you what, McKinzey seriously had her stuff together. She tore it up mad style. She went crazy on us. Working with McKinzey was the best way for us to end the day!
We totally and completely had a great time working with her, as her total ease with a camera shone through all she did. We want to throw her mad props (see how hip I am by using modern street slang) for being such a gem, and for letting Otis try on so many different items of her clothing; and for letting James be near a sea of purses.
Well, if anybody out there can look at the following photographs and give us a heads up as to what the accurate spelling of Whitney's name is – it would be greatly appreciated. So, enough crazed ranting, and on with the pics – Enjoy!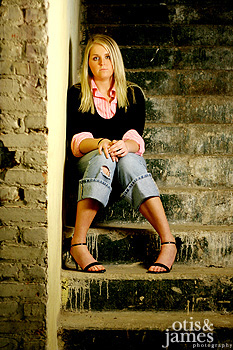 All Images ©2005 Otis & James Photography
*Special thanks to Deb!