Come with me, as we venture back in time to a place called 'Monday' – a day where we were surrounded by family that came from the land called Virginia. I know that this may seem crazy – you may tell yourself that we can't travel back to this mythical place. But I'm here to tell you that indeed, we can travel back.
All that you have to do is: A)Let yourself go – let go of your pre-conceived notions of what time and space are, and – B)Hop on board the Otis & James Blog Express and travel the information superhighway back just a little bit, and we will soon all be back to where we once were. Got It??!!
Now that we're back to this time, let's see what's going on. Oh…It's longtime blog reader and poster Reba, and her beautiful family (Jessie and Little Jesse)! What a treat it is to have them back with us and in our studio! We were honored to not only be their official photographers, but to also be chosen as the God Parents to this beautiful boy. We thank them for coming up to the equally far away land of North Dakota to be with us, and trust that we will all be together again soon. So we travel back to the current time, and the family Ramirez travels back to Virginia, but we can still hop on that time machine and remember our Monday – Enjoy!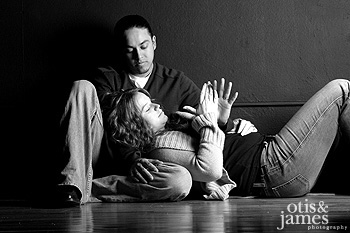 All Images ©2005 Otis & James Photography