Hello there, my dear friends of blog! I do trust that all of you have been doing well, and your hearts and homes have been filled to the brim with nothing but love, love, love, sweet love! Well, I haven't come here today to just talk to you about how you've been doing, I've come here today to tell you about a visit from the absolutely wonderous Family Erck!
Now, I've had the goodly great fortune of knowing one of the members of this awesome family for a little bit longer than the rest. You see, I have had the good pleasure of knowing the matriarch of this bunch (and for those of you out there that don't want to look it up, that means I'm talkin about the one that is Mother of the bunch) from her skillz as a Nurse at one of the hospitals in town here (and for those of you living here, that's kind of a joke, as there is really only one hospital to choose from, but enough hospital jokes). Now, as most of you do during the course of these insane ramblings, I know that most of you out there in the land of blog are wondering where it is that I am going with this thing, but let me tell you just a couple of things about The Matriarch (as I shall call her, and – for those of you that do keep a copy of Webster's Dictionary by your side as I do, it does state that a matriarch is 'older', but in no way am I implying that she is old, in fact, I'm about 99.9% positive that I am older than her by quite a few years, and in no way am I old…right?) that I think you should know.
The care that she provided to my father when he needed it the most was absolutely incredible, and there is no way that I could ever fully express the thanks, gratitude and high level of esteem that both Jamie & I have for her. She was an angel that provided comfort in not just his, but our moment of need, and we shall ever be indebted to her for that. Thank you…you are a beautiful person!
Well now, my people of blog, we mustn't forget what it is that we have come here for, and this is The Family Erck! Annnnnnd…I come to you today to give you the news that every member of her family is just as wonderful to work with as she was (but really – did we think that they wouldn't be?!) They came on into the FunCenter, and showed us again what it is like to work with what we in the industry (and, of course, I'm refering to the automobile industry) like to call 'a totally awesome family', and we would now like to give MuchLove & ManyThanks to this wonderful family for stopping down to Center For Fun! Well, I think that I have offered up enough words, and we should now put this one to sleep and look at happy pictures! Yayyyyy! Ohh…and – Enjoy!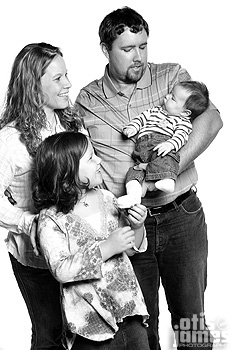 All Content ©2007 Otis & James Photography