We finished the day of many shoots with a special 'members only' performance by this trio, which now I will just call 'The Un-named.' I'm not really sure that it was members only, or if anyone besides myself was wearing any Members Only clothing (love their fall coats), but all of this is beside the point.
What matters is that I heard a version of Puff The Magic Dragon that borderlined on free-form jazz experimentation. I didn't know whether to weep in its subtle beauty from chaos, or to noodle dance in a Grateful Dead sort of way, but this too is beside the point.
The point is, here's some pics – Enjoy!
:: click images for larger ::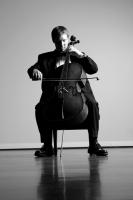 All Images ©2005 Otis & James Photography