We have a friend here at Otis & James, and his name is Luke. Some of you Seniors that we have shot may recognize him, as he sometimes is an assistant to us in the studio!
Luke is a very smart and happy young man, and he always brings much joy to the land of Otis & James whenever he stops by. So we thought we'd have him bring his train and doctor suit, and make the most of the morning here at Otis & James.
After a shaky start, Luke got into the swing of things and then really started to pull out those poses he had been saving up. It turned out to be a great shoot (except for the hand shut in the door part), and we got a ton of great pics. To Luke, we say thank you for being so good for us, and to Mom & Dad we say – Good Job, and Enjoy!
And of course…with Jamie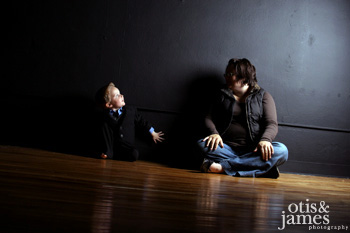 All Images ©2005 Otis & James Photography