Hello from the land of Otis & James!!! It's been quiet on the blog of late, but rest assured my fellow bloggers – we have not been resting on our laurels (what does that mean?) We've been hard at work making our studio into a even more rocking place than it was before.
When we moved into the new studio, we really didn't have much time to do everything that we wanted to, so we used this last week to make some really cool changes to our already super double cool space! Stay tuned for some photo's of these changes (you would think that as photographers, we would already have some up – but that's not how we roll) in the coming days. Special thanks to the family of Fat Al for all of their assistance during this week – we couldn't have done it without both of you!
Alright, I'll put up one pic now:
:: click image for larger ::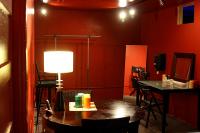 This is the new and improved dressing room – just one of the new features we've been working on. For those of you that had used the old dressing room, you may notice some differences (like the unbelievable amount of red paint, which after many hours of being in the room with just a solitary light and no companionship caused ol' Otis to feel like he was caught in an outtake of The Shining – but it was worth it.)
Stay tuned for more samples of our week of behind the scenes work to make a stronger, better, shinier Otis & James.
Thanks again, and much love to y'all –
Brit & Kev