Our day here at the Grand Palais of Otis & James came to a thrilling conclusion with a visit from the family Westgard! Oh what fun it is to ride on a one horse open sleigh, but oh what fun it is to work with a family that is so completely and utterly rockin' to work with!
They truly brought their A-game to the studio last night, and it showed. They make it look effortless, but I suspect that this family is actually a group of models that were sent to us to show just how easy this thing called photography can be when your subjects are perfect!
We thank them for coming down so late in the evening, and for choosing Otis & James to be a part of their Holiday festivities! As a small token of our thanks, we now offer up some sample snaps from the nights work – Enjoy!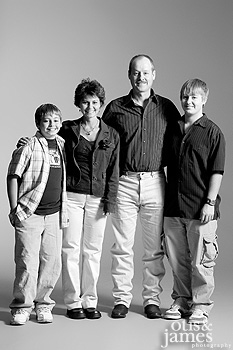 All Images ©2005 Otis & James Photography