This past Wednesday morning (I know…it's been a few days since we've last conversed) we had the great pleasure of meeting up with old friends of Otis & James, none other than Gabe & Nina! Their caravan of good times was rolling through the minot area, and we were lucky enough to be one of the stops they chose to make!
They jumped off the caravan (the metaphorical caravan, I really don't think they were driving a Dodge Caravan, but I guess that I really don't know, but they don't seem like a couple that is at the minivan stage of their relationship – come to think of it, is anybody ever really ready for the minivan stage of a relationship?) and jumped right into the studio, a rip-roarin' and a ready to go!
They were awesome – totally and completely comfortable in front of the camera (me thinks that Gabe might have had a certain Miss Kitty from Moorhead to thank for that), and it showed in their shots. You know, I'm just going to stop talking about these shots and move on to the goods – Enjoy!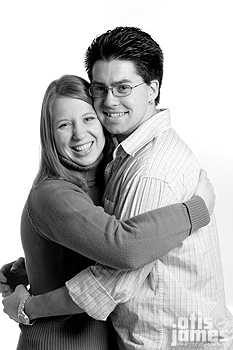 All Images ©2006 Otis & James Photography