With a title like 'Sweet Rocking With The Family Edwards', it will probably take little effort to figure out that this past Saturday, we did some Sweet Sweet Rockin With The Family Edwards!
Now, sometimes people may wonder, 'What is all this craziness that this person called Otis is always spewing??? What exactly does it mean when he says that there was sweet rockin' happening???' Some may think that there are subtle undertones occuring, or that I am implying that something fishy may have been going down.
Again, don't worry your heads like that! I assure you that when I say that there was sweet sweet rockin' going down, I mean…let me see if I can explain this to you…it's like when Lynyrd Skynyrd (and I had to look that up – seriously, what is up with that spelling?) is playing Sweet Home Alabama, and they're really locked into a good groove – the guit-fiddles are blazin', the pinano is singin' – the whole thing makes you feel like it's a warm summer day, and life is good! That's what I'm talkin' 'bout!
So…you get it?? Well, if not (and I'm thinking that most of you have stopped reading now and have just moved on to the snaps), let us do just that and stop reading now and go to the snaps. Thanks be to Family Edwards for taking a little time off from all their hard work to visit us, and – Enjoy!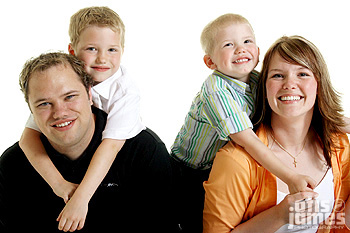 All Content ©2006 Otis & James Photography