That title is a slight variation on an original for all you Boomtown Rats fans out there…hello…are you there? Moving on, I'll tell you why I do like Mondays, and it comes down to this: it's because we get to work with flippin' sweet peeps like the one and only Heather!
Heather, you see, was so awesome that all we had to do was meet her here, and she not only was the one being photographed, she actually was the one taking the pictures too. That's how good she was. James & myself just sat in the corner and wondered how it was that somebody could be so effin awesome to work with! Not only was she awesome, but her trusty sidekick (the one and only/soon to be featured on 'the blog') Hailey was awesome too! There was double awesome goin' down! Did you hear that?? DOUBLE AWESOME GOIN' DOWN!!! AND THREE EXCLAMATION POINTS!!!! MAKE THAT FOUR! WHY AM I SHOUTING?
OK, so I've stopped my freakout, but I'm not gonna stop with just some words, I'm also gonna give you some snappitysnapsnaps, just as soon as I say 'Much Love' to Heather (and the lovely Hailey) for being such a treat, and now that that's out of the way – Enjoy!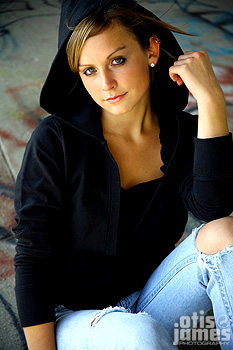 And, as a special bonus treat…


All Content ©2006 Otis & James Photography