This past Sunday evening, our rare day of sun at the office continued with a visit from the lovely couple Cale & Brianne, and special guest star Caden!
What, oh what was the reason for all of this photographic aweseomosity to be occuring, you ask? It was for the sweet sweet e.pics of our new friends to the FunCenter, and perhaps even a family pic or two! And, this being the part when I calm all of your nerves out there and reassure that we did indeed do just what we set out to do, I will not be breaking from tradition, and I will again be letting you know that did do just what it was that we set out to do!
Yes, yes! I know that this last sentence doesn't make sense, but if I were to begin speaking sensically now, I fear that you would think that your cool Uncle Otis had been replaced by the Otis 7000 SuperRobot. This is not the case. It is me. The Robot has been ordered, but it will mostly be answering the phones, and making lame jokes, and burning inscense, and reclining in his chair, with his Diet Coke, with his feet up on the desk, whilst engaged in phone conversations. Whereas, the real Otis will have much more time to devote to you, the faithful of the blog. It's what I like to call a Win/Win situation.
So, you need to clear your minds of all this useless information and instead focus (did you get it, a photo-graphic joke!) on the matter at hand, which is this lovely family, and their superlovely picto-snaps! MuchLove to one and all for making it down to the FunCenter, and to all of you out there in the land of blog – Enjoy!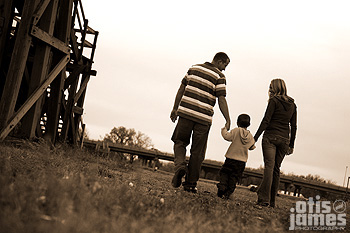 All Content ©2006 Otis & James Photography