This past Thursday evening we had the good fortune of being visited by none other than the Family Gendron, and they didn't just come in order to spend time with Otis as he pontificates about anything and everything for hours on end. No, no. They came down for some SuperTotallyAwesomeFamilySnaps, and…ladies and gents…I'm here to tell you that they not just rocked, but they rocked the stu-stu-studio to its core. It's molten core. In fact, they rocked the molten core so hard, there was actually a volcanic eruption of FunCenter core that was precipitated by some minor FunCenter Earthquakes, and strange behaviour of one Nacho Duck (thang Gawd that I paid attention in Geology…I knew a fieldtrip to the sewage lagoon would finally pay off). This, is how hard they rocked.
In particular, the patriarch of this family was stellar. Totally stellar. Totally interstellar. He was intergalactic. Wow. Amazing. And that's that.
We would like to thank these good friends of o&j for taking a little time on a wonderful Thursday evening for coming down to the FunCenter, and for all of you all of you all of you all of y'all out there in the land of blog – Enjoy!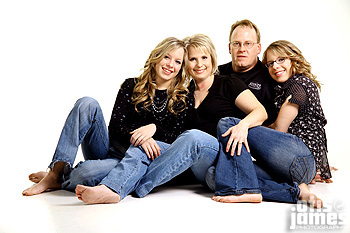 All Content ©2006 Otis & James Photography