Sisters Christen
Oh the time has come
Time To Enter The FunCenter For Fun
To say O&J,
Where you going?
What you looking for?
You know these snaps
Are Gonna Be Dead Sweet, With Us
It's true

You're photo-ing
What's your price for pics?
In finding perfect snaps
You'll be on the blog, tonight

Ladies, you know
You're growing up so fast
And Willow's worrying
That you won't last
To say 'Willow Wanna…'

Sisters Christen
There's so much in life
Don't you give it up
Before your session is through
It's true
It's true

You're photo-ing
What's your price for pics?
In finding perfect snaps
You'll be on the blog, tonight
Most people don't know this, but these are actually the original lyrics to the famous song by Night Ranger. Night Ranger. Yeaaaahhhh. Uhhh…what exactly is a 'Night Ranger'? Technically, the definition of a ranger is:
A keeper of a park, forest, or area of countryside.
A member of a body of armed men.
A person or thing that wanders or ranges over a particular area or domain.
So, either it is the keeper of the park at night, an member of an armed body of men…at night, or a night wanderer. Yes. The night wanderer. OK. All of these things are totally creepy. Why, dear Night Ranger, was this what was chosen? Was there a band meeting, and it was decided to go with this? Perhaps the bass player (always the least reputible member of any band) threw out his idea that;
[Bass Player]…man, I've really been thinking about this whole band name thing, and I think I've got the solution to our search. You know how we're always trying to convey the image of 'someone that watches the park at night' through song? Well, how does 'Night Ranger' sound? Hmmmmmm? Can you say gold, anyone?

[Lead Singer] Night Ranger. Night Ranger. Yesssssss. I'm digging this, good. Real good.
Really? Is this how it went down? Bass players. Truly, the scourge of the earth. But, I digress. You see, a couple of years ago, I was sitting up at Primo, and who should walk in but most of the members of Night Ranger. Previously, I had thought that meeting most of the members of Jefferson Starship was crazy, but this really blew my mind. They didn't say anything to me. They just handed me a cassette tape and said, "Someday, it will all make sense."
That night I went home, powered up my boombox, and listened to what I had been given. It was a song that I was familiar with, but the lyrics were so different. Sisters Christen? O&J? What were these things? What did it mean? I put the tape into the glove box of my '77 Monte Carlo with the brown body and the blue hood, and never thought of it again. That was, until this past Sunday. Christmas Eve, or…Christenmas Eve, as it would soon become known.
It was the night that the prophetic tape from Night Ranger would all make sense. It would take three wise ladies from a land called Minot, following Broadway to a place called the FunCenter, where they would stroll in and rock our world, hardcore. We have had the great pleasure of working with two members of this parfect trifecta, and on the Eve of Christmas, the group was made complete, the prophecy fulfilled, and all in the land of blog knew that it would be alright. No worries! Idubitably! MuchLove! OneLove!  Enjoy!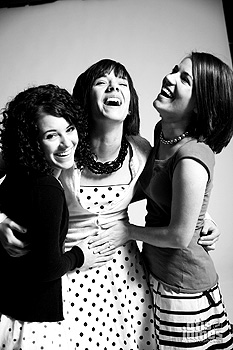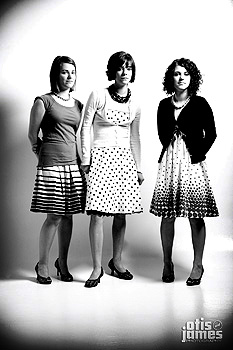 All Content ©2006 Otis & James Photography