This past week, it was the birthday of the patriarch of the clan of which Otis descends (the names have been changed to protect the innocent.) So, seeing as how we had all of this space in the studio of O&J, we decided to put some of it to good use and have ourselves a little suprise partay!
So we schemed and planned our get together behind the back of the guest of honor (you can call him Bud if you like), finally finishing off the last bit of painting that was needed in the studio (big thanks to the parents of Fat Al again for helping us out), we got our linens, balloons, cake and pickled herring (nothing goes better than cake and pickled herring – we are good Norwegians, after all) together and made the Otis & James Super Studio into a party zone for this special Saturday!
Not only were we able to suprise the guest of honor with the partay, but we also flew in a son from sunny San Diego CA! Friends and relatives from far and wide descended upon our studio for some good food, and good times in celebration of the father of Otis (no offense to brothers and sisters, but I'll call him the father of Otis today.)
Fun was had by all, and the party continued well into the evening, even after the guest of honor retired for the night we kept this party rollin'! Well, I'll quit all of this rambling and move on to a couple of pics from the festivities – but before I do I just want to say thank you to everyone for coming down (especially to Eric for coming so far) and making it a great party, and a great big Happy Birthday and wishes for many more to my Dad – Enjoy!
:: click images for larger ::
Brothers
(Alan & Buddu)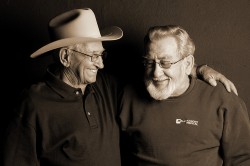 All Images ©2006 Otis & James Photography
Cake by Crown Cakes
Balloons by Abracadabra Balloons