We concluded our day of beautiful babies with a visit from our new friend JJ – and he brought with him Mom & Dad as well. All I gotta say is that this boy has a smile that could bring the world to its knees – I'm not sure what that means, but believe me when I say that if the dial that turned up charm went to 10, he turned it up to 11 and then one beyond that – 12.
And…as long as we were all here taking pics, we thought 'what a grand idea it would be to take a couple of Mom & Dad', or as they were known in the time before JJ – John & Sara. We immediately were able to see where JJ got the camera mojo from as soon as we started snappin' up on these two. They rocked, straight up.
Well, I think that this post has gone far enough, and we should take a little time to look at some of the goods from the evening – Enjoy!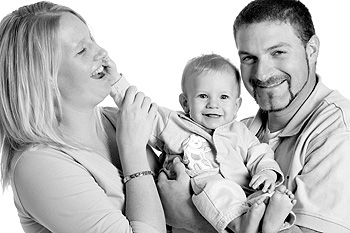 All Images ©2006 Otis & James Photography