'Butterfly in the sky
Luke can fligh twice as high!'
A part of me would just like to keep this post at that. It would be perplexing. People would be left just shaking their heads.
Alas, I can not do this. I just can't leave the post at this. Even though the first pic makes me think of Reading Rainbow for some reason, I need to put a little more on there. So here goes.
The doors of the FunCenter opened up at some point during the not-so-distant past, and welcomed to its warm confines The Children Havig! They came here not just to hang with Mix Master Ben in the front office. Oh no. They came here on a mission, and this was to get some superawesomelysweetholidaysnapsfortherents. And trust me, get some superawesomelysweetholidaysnapsfortherents was exactly what they did!
They, along with their trusty pup, tore it up, Kräzy style here at the studio, and we're still trying to recover from their total and complete awesomeness! MuchLove to one and all in this wonderful group, and remember…Reading Rainbow! Enjoy!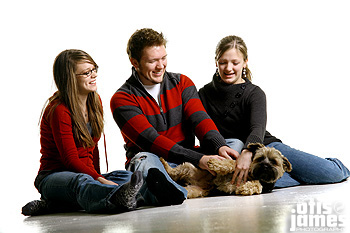 All Content ©2006 Otis & James Photography